Jazz. Nachdem ich im letzten Oktober das Viktor Sjöberg New Jazz Ensemble im Programm hatte, dachte ich, jetzt fehlt nach Jazz eigentlich nur noch Metal als Genre im Kulturklubben. Dann wäre alles mal abgedeckt (außer Oper, ok).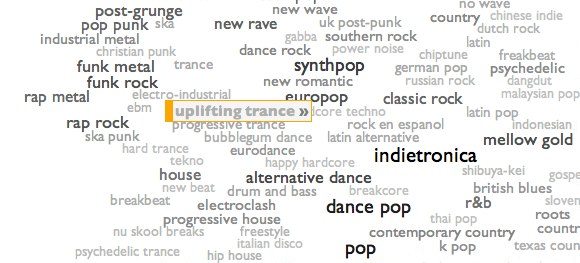 Doch dann las ich im Februar Glenn McDonalds Jahresrückblick und entdeckte darin, zu meiner eigenen Überraschung, ein Metal-Stück, bei dem ich zu verstehen begann, warum Leute Metal hören.
Music is infinite. I've always known this, emotionally, but I've spent a lot of time pretending it isn't quite true, trying to understand everything. Or at least subsets of everything. Or at least pretending that my understanding of music simply grows with everything I hear, or that every new perfect 3:00 I discover brings with it 5 additional hours of life in which to listen to it 100 times.
Musik ist unendlich und damit auch Musik-Genres. Einige Tage später veröffentlichte Glenn McDonald dann Every Noise at Once, eine Visualiserung, die diese Unendlichkeit der Musik auf großartige Weise sicht- und hörbar macht. German pop, Chiptune, Intelligent Dance Music, Anti-Folk, Japanoise, Dream Pop. Alles kartographiert und zum Anhören.
Technische Hintergründe und Links zu anderen Artikeln sind in seinem Blog zu finden: Pictures of Every Noise at Once, Every Noise at Once, Noisechasing, Chorus of Noises.

Every Noise at Once!
Click anything to hear an example of what it sounds like.
Click the » on a genre to see a map of its artists.
(Musik benötigt anscheinend Chrome oder Safari.)