KW 20 / Remington Super 60 Retrospective
---
About four years and five weeks ago spring was still fighting against winter and we were listening to the Winter EP from Remington Super 60Vinterdepression 2013 KW 14. Now it seems summer is already here. What better soundtrack could there be to accompany the first days at the lake than a new EP from Remington Super 60? Remington Super 60 Well, a new album and a new EP maybe?
Indie Pop for Kids Vol. 1 is an EP full of
[…] beautiful childish pop for people of all ages. Particularly parents that are tired of listening to tiresome kids music in the car and that are in need of something else, might share this with their kids so they can enjoy the music together.
It features Robo as its main character who has accompanied the group over the years and appeared already in their first 7″ from 1999, Lost KidLost Kid. A lost record indeed, as Christoffer Schou who started the band with Benedicte Sveinson and Magnus Abelsen told us:
But I am trying to find the guy who ran the label that released it (Myke Droner) – the label doesn't exist anymore and I haven't spoken with him in 18 years, but if I get a hold of him, I am going to ask if he has a box of the 7″ lying around.
A real retrospective of now almost twenty years of bleeping Casio sounds can be found on A Tribute to Remington Super 60. It features another version of Happy Birthday, which can be found as an unreleased version on YouTube Happy Birthday (Unreleased Version) and also appears on the Indie Pop EP. Here it is sung by Elisabeth T. as a birthday present for her husband Christoffer Schou.
Among the artists on the records are Anthony Rochester from Tasmania and The Hepburns from Wales with an acoustic cover of Elevator Disco Express from the album Remington Super 60 presents Nice System released on Radio Khartoum, as well as old friends and collaborators like EPA, Safariari and ComputorgirlComputorgirl EP, the first singer in Remington Super 60.
Another highlight is Prunk Möbel'sPrunk Möbel version of oh'i'oh'i'ai'ai'ai which is not even a cover song:
The song he covers has never been released, Henrik is a good friend of RS60 and heard the song on Christoffer's computer and really liked it.
Christoffer was so kind to answer some more questions on the history of Remington Super 60:
Can you tell us more about how this record came about?
This album was actually made behind my back for my 40th birthday and presented to me as a gift on the surprise party my wife held. It was very emotional to know that all of these artists did all this work behind my back. I really liked the album and wanted to move on to release it, so I got some more artists involved (Le Superhomard amongst others) and did some changes to the artworkA Little Bit Of Me.
Before that release, it's been a while since the Remington Super 60 record Go System Go! was released in 2006. I remember buying it in a Platekompaniet record store in Oslo. Are there still record stores left in Norway these days? And what have you been up to in the meantime, are there any other musical projects we should know about?
There are still some in the bigger cities, a few speciality shops in Oslo amongst others, but not in my hometown (Fredrikstad) – the last one disappeared a few years ago :(

Yes I have another project together with my old friend Jon Kristian (Safariari) and my wife Elisabeth called Musique Le Pop. We have released a few singles and an EP.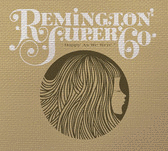 Happy As We Were
Gregorio Soria The record before that, Happy As We Were, had three differently colored editions and was released in 2004. How did these different editions come about?
Hm … I don't remember why we decided to have different colors, but it could be that Gregorio (the designer) sent me a few variations in color and I liked the idea of having different colors. I licensed the album to Velo records in Hong Kong and Automatic Kiss in Germany so each license had its own color.

I think that the artwork Gregorio did for that release was magnificent. He is a genius!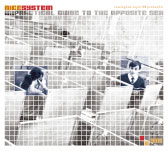 Nice System Any plans to do another release as Nice System?
I actually think that Nice System and Remington Super 60 is the same band, hehe. Now in 2017 I don't understand why I absolutely had to have a new band name for that release. I do consider it more a Remington Super 60 album.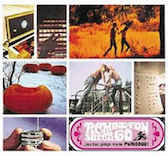 All the Songs from Pling 2001
Bossanova Button Your first full length record featured the wonderful Bossanova Button – a reference to the actual button on a Casio keyboard but probably also a reference to musical influences? What other artists and influences have shaped Remington Super 60 over the years?
Well, I was very influenced by Burt Bacharach when I started Remington Super 60 (and still am) …

I also fell in love with bands like Eggstone, early Cardigans, High Llamas and also Japanese music like Cornelius, Pizzicato Five, the Sushi compilations released by Bungalow Records, etc.

And of course classics like The Beach Boys, The Beatles, The Kinks …

Back in those days there were also so many small indie labels and mail orders, I remember we used to exchange releases with many different labels so I got to know so much music I wouldn't have heard otherwise. I have a large collection of well-known and obscure pop music, hehe …
Thanks Christoffer and looking forward to Indie Pop for Kids Vol. 2!
— Robert