KW 43 / Oktoberfest, Novembertest
---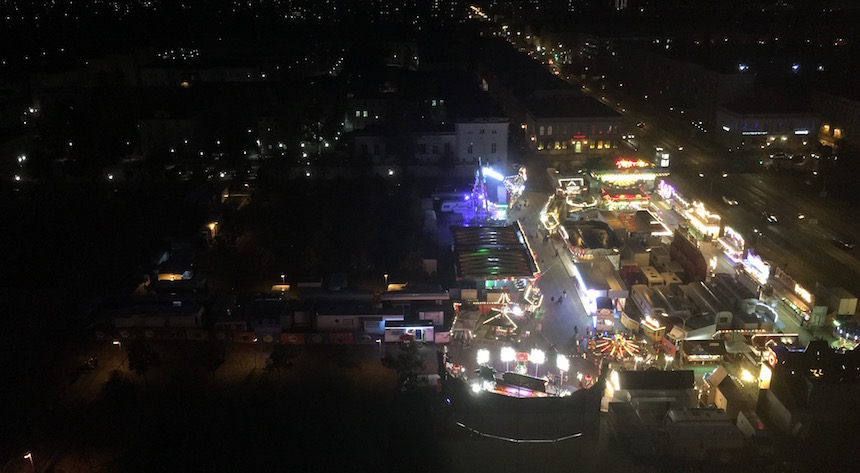 Einmal geblinzelt, da ist das Oktoberfest auch schon wieder abgebaut. Das heißt dann wohl, dass der November vor der Tür steht. "November" klingt erstmal nach "Grey Skies", Dear Grey Skies ist aber auch der Titel des ersten Stücks des lange erwarteten neuen Albums von Colleen:Colleen A flame my love, a frequency.
1. November
2. Separating
3. Another world
4. Winter dawn
5. Summer night (Bat song)
6. The stars vs creatures
7. One warm spark
8. A flame my love, a frequency

Nachdem das vorige Album, Captain of None, von Viola da Gamba und Octaver-Pedal geprägt war, sind es jetzt ein Septavox, Pocket Piano und ein Moog-Delay, rein elektronisch:
Colleen News no acoustic instrument was used in its making, and apart from my first album which was 95% samples, that's a first for me!
Ob elektronisch oder nicht, es lohnt sich, die Geschichten zu alten und neuen Alben nachzulesen – und zu hören natürlich, zum Beispiel die der Melodica in Salina Stars:
I've always loved the melodica (you can listen to my "The melodica song" from my Mort aux Vaches 2005 radio session) and have always found it a shame that it's so often associated with a kind of "twee" vibe that makes it more akin to a toy than a real instrument. As far as I'm aware, only the late great Augustus Pablo managed to make the instrument truly shine in its own right, and he is the obvious inspiration behind this track, one of the last two that I worked on when making the album (along with "Eclipse", the other track where the dub influence is the strongest).
1. Holding Horses
2. I'm Kin
3. This Hammer Breaks
4. Salina Stars
5. Lighthouse
6. Soul Alphabet
7. Eclipse
8. Captain of None

— Robert